If you're a father who is 40 or older, then fatherhood can be an entirely different experience than it was for your father.
You may have fewer days and hours to spend with your children because of work commitments.
You may feel like the fatherly advice has been heard too many times before.
And when there are disagreements between parents over how to raise their children, it can be challenging to come up with solutions without seeming biased in one direction or another.
This blog post is meant to help fathers who are currently living in this stage of life find helpful guidance and inspiration on child-rearing, relationships, work/life balance, and more!
How to get enough sleep as a 40 y.o. dad
Sleep is important for our health. It's even more important for 40-year-old dads.
Many studies have shown that it is important to get enough zZzZs. People who do are lacking in sleep are at risk of many diseases, including heart disease, kidney disease, high blood pressure, diabetes, stroke, or obesity.
It becomes hard to stay up late and get up early as we grow older. We need to save our energy to keep playing with our kids as they grow.
New parents are told they need to sleep when the baby sleeps. An excellent way to do that is by doing the following:
Get some power naps. A little sleep goes a long way.
Keep your sleeping hours regular.
Go to bed on time.
Make sure you have an excellent mattress that is soft or firm as needed.
Make certain the room is dark, quiet, and relaxing, so it's easy for you to sleep.
There will be many late nights, sick days, and times when you have to wake up early. You will have the chance of these things happening often. So make the most of every opportunity that you get!
If lack of sleep is a problem for you, try taking some natural supplements.
How to keep up with your children at 40
Many dads worry that they will not be able to do what they used to do when they are older. For example, when I was 42, I worried about how I would keep up with my toddler. Likewise, when you are 55, you might worry about how to keep up with your teenager.
If you are a dad over 40, you need to go to the gym more often. Then you will have more energy for your kids. You should also think about what you are eating and be healthier. If you start walking more, sitting less, exercising, you'll feel younger than you've ever felt.
Healthy living is essential. Older parents should give their children time. Your kids want you to be involved in their lives, so they can share things with them and watch them grow up.
To have a better and healthy lifestyle, eat nutritious food. One way to do this with your children is to have a daily ritual of eating fruit while talking about things that happened during the day. Another thing you can do is cook together as a family, so your children know about eating right.
Aches and pains may start to plague you at 40. You can take medicine for them or you can try some natural alternatives like the following:
Turmeric
Collagen
Glucosamine and chondroitin
Dealing with change as a 40 y.o. father
As we get older, we don't want to change as much. When I was 20, I was ready for anything. But now I am not.
I like to take time to think about changes. So I can make better decisions and fewer mistakes at 40 than when I was 20.
So, you should do your homework before you get pregnant. After that, you can read books or take notes. Then you can start making plans.
Will there be changes that you can't control? Unfortunately, yes. But if you don't have a map, you will not find your way.
How to deal with younger parents as an older dad
It's hard to follow conversations at playgroup. I don't know what the children are talking about, and I'm not interested in video games either.
Instead of focusing on our differences, I try to start conversations about things we might have in common. Like sports, or hobbies. Or even our kids!
Juggling career as an older dad
Many people in their 40s make a lot of money. They have been successful in their job, and it is hard to take time off for children. But you can't be at work all week. Your kids need you.
More and more companies realize that job-sharing and telecommuting are better for the company, the employee, and the bottom line. But, of course, it is also better for stay-at-home dads.
Don't stress being an older father
If you are an older parent, try not to worry about it. Instead, look at all the positives. For example, more aging parents usually have excellent jobs with lots of money, so it's easy to take some needed time off or work from home.
And, stressing about it will only make the matter worst. Having a baby at 40 years old and older is not so bad. The baby will have a more mature father who uses common sense.
If you're 40 y.o. or older and want to be a father, do it! It's better than not having children because of society's expectations and stereotypes that leave most people scared off from becoming parents until their late 30s or even later in life.
Can't cope with stress? Try a calming natural formula to help you stay calm, relax, and sleep longer.
Conclusion
It can be tough to face life's challenges, but you have gone through a lot before.
You might have more life experience and problem-solving skills now.
And if you are an older father, there will be rewards for you!
The first smile from your child, the first step they take, and all the other "firsts" waiting for a dad.
Now that is a challenge worth facing!
---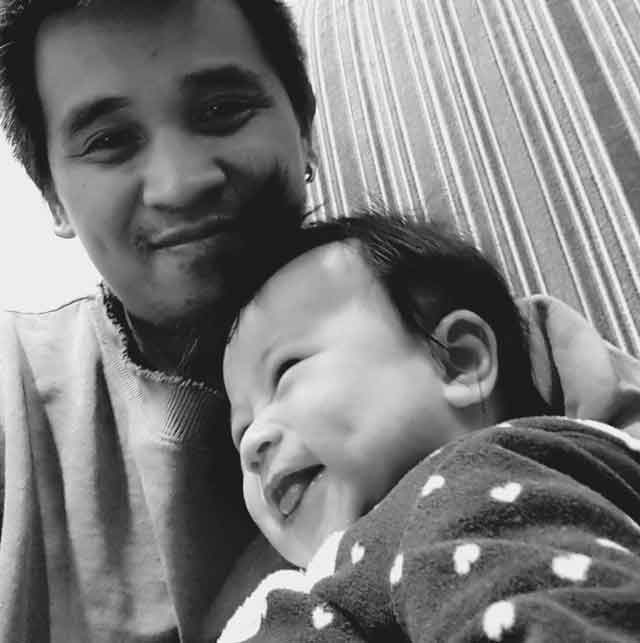 Ladies and gents, gather round, I've got a tale to tell. Picture this: a body that refuses to bulk up, paired with a metabolism slower than a snail's race to the finish line. It's a curse, I tell ya! But fear not, my friends, for I took this challenge head-on and became a scholar in all things weight loss and nutrition. And now, I'm here to share my tales of triumph (and some struggles) with you all, so you too can finally achieve that bod of your dreams! flex (just kidding, still workin' on it).

— Christian Tanobey
---